Laser rejuvenation Laser Genesis
Pravilnaia Kosmetologiia (Proper Cosmetology) center offers you laser face lifting. This procedure quickly and painlessly tightens and rejuvenates your skin, as well as helps get rid of wrinkles. We use the latest laser devices that provide the desired effect without a rehabilitation period.
Submit question about the service "Laser Genesis laser rejuvenation"
Service call "Laser Genesis laser rejuvenation"
Fields marked with an asterisk are mandatory
Sign up for the service "Laser Genesis laser rejuvenation"
Fields marked with an asterisk are mandatory
Number of procedures
4-7 procedures once every 2-3 weeks
About the procedure
Indications
Recommendations
Specialists
Equipment
About laser rejuvenation
The gradual destruction of the collagen skeleton of the skin leads to its laxity, sagging, and wrinkles. This happens under the influence of the following factors:
natural aging processes;
exposure to ultraviolet radiation;
smoking;
drinking alcohol;
unhealthy diet;
improper skin care;
gravitation.
They can also provoke age spots, dilated blood vessels, rosacea, and other defects. There are many ways to deal with these problems, but laser lifting copes with them all, which makes it very versatile and effective.
Laser facial rejuvenation: how it works
The laser beam has several positive effects on the skin at once:
- Increases collagen production. The old collagen fibers are destroyed and replaced with new ones. Under the influence of heat, the fibers are reduced, providing instant lifting and tightening of wrinkles.
- Improves blood circulation. The laser removes damaged blood vessels and promotes their renewal. This allows not only to get rid of rosacea and spider veins but also to improve the color and tone of the skin.
- Removes hyperpigmentation. The destruction of excess melanin leads to lightening or even complete disappearance of age spots.
- Shrinks pores. Reduces skin oiliness, helps to treat acne, prevents comedones and blackheads.
- Disinfection. The laser kills bacteria and demodectic mites, which instantly reduces the number of rashes and pustules, eliminates the cyanosis of the face characteristic of acne and prevents scarring.
Thus, the procedure has a combination rejuvenating, corrective, and therapeutic effect, coping with many skin problems.
Number of sessions required
The results will be already visible after the first session, but to make them more apparent and lasting, we recommend a course of 4-6 sessions.
Is it painful?
Due to the built-in cooling system, laser lifting is absolutely painless. The sensations are limited to pleasant warming up.
Need of rehabilitation
A few hours after the session, slight redness remains on the skin. In most cases, the laser rejuvenation procedure is well tolerated and does not require changing lifestyle, such as avoiding makeup or playing sports.
Indications
Laser rejuvenation is indicated for the correction and prevention of the following defects:
laxity;
change of facial contours;
unhealthy color;
wrinkles;
acne;
dark spots;
oiliness.
Equipment
Cutera XEO neodymium laser is used for skin rejuvenation. It has gentle effect on the skin - a modern cooling system, combined with a precise laser pulse adjustment, minimizes skin damage.
Cost of laser rejuvenation
The price of the course depends on the number of sessions and the area treated.
Compatibility
Laser lifting is perfectly combined with other cosmetic techniques. However, avoid doing any of them directly on the same day with the lifting.
Get a consultation at our clinic - we will select for you an individual anti-sagging program.
Indications for the procedure
Recommendations and contraindications
Preparation for procedure
Restrictions after procedure
Infectious and inflammatory skin diseases in the laser-treated site
Treatment room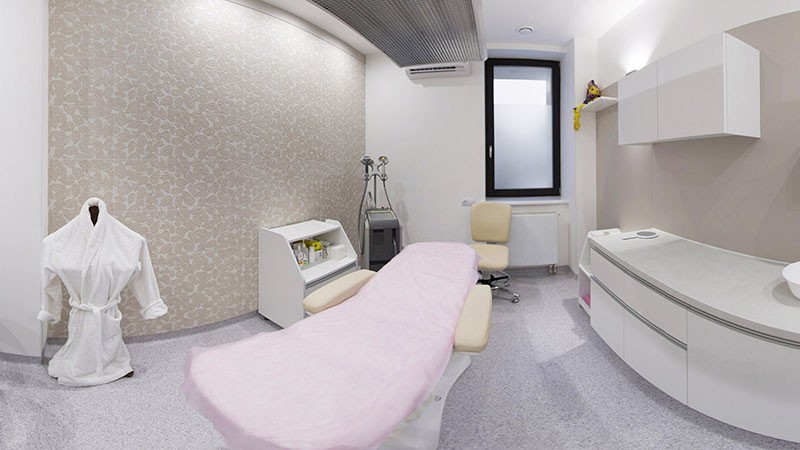 Our advantages
Experience and professionalism
Technologies and author's methods